Prince Tony's...
...'TR International' productions, probably more than the work of many other producers, popularised the art of Jamaican deejays, Big Youth and U Roy in particular, and brought them to world wide prominence in the second half of the seventies.
It is generally agreed that Tony 'Prince Tony' Robinson's first production was
Cassa Boo Boo
from the underrated Uziah 'Count Sticky' Thompson, released in 1969 in Jamaica on the
Soul Shack & Top Of The Pops
labels and in the UK on Trojan's
Grape
subsidiary. Sticky introduced the record in fine style with "Here comes the man Prince Tony..." and that man Prince Tony continued to keep on coming throughout the seventies.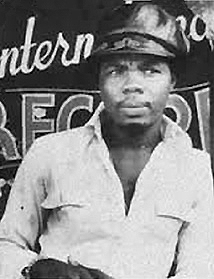 "Deejay thing used to go and come... it wasn't steady."

He went on to release a selection of hit deejay singles on his own
High School International
label from talk over luminaries including Dennis Alcapone with
Majesty In Red
and
Rub Up A Daughter
, Dillinger with
Fat Beef Skank
and, most notably of all, on a series of smashes with Winston Scotland. A number of these, such as
My Little Filly
and
On The Track
, were sufficiently successful to be released in the UK through Trojan and
Pama
in London.
Buttercup
, a superb version to Prince Tony's cut to
You Don't Care/You'll Want Me Back
, after its initial release on Pama's Punch subsidiary, was then licensed to
Philips
, a major label, for UK release in 1972. It inexplicably failed to cross over into the National Charts. Prince Tony had a real feel for deejay records, or versions, and his records were not only extremely well produced but also very successful as he later recounted to Carl Gayle:
"Me is one of the man who support version. Me tell you say me a make money out of talking... all my money come from talking." (Prince Tony)
Winston Scotland's
Quick And Slick
... "Here comes the brother called Slim Smith..." used Bunny Striker Lee's
Everybody Needs Love
rhythm to great effect and Lee 'Scratch' Perry had given Prince Tony a cut of Dave Barker's
What A Confusion
(aka
Earthquake
from both U Roy and The Upsetters rhythm which Tony utilised to voice
Arab And Israelite
with Roman Stewart. However, in 1975 he versioned over Scratch's
Curly Locks
as
Let Locks Grow
with Barrington Spence. Prince Tony was promoting the career of this youthful vocalist at the time. Scratch and Junior Byles hit back with
Dreader Locks
.
"Prince Tony you're a phoney... gonna ride you like a pony" but
Let Locks Grow
was a considerable hit and the deejayed version from Big Youth,
House Of Dreadlocks
, was an even bigger seller.
From his headquarters at Prince Tony's International Record Mart at 45 Slipe Road, Tony began to release records on the
TR International
label. An early long player from Slipe Road,
Dread Locks Dread
from Big Youth, was subsequently released in the UK on
Klik
where it sold "like a forty five". The purists might have moaned that it was the "beginning of the end of the Youth's career" but it actually signalled the beginning of an entirely new and highly successful international career for both Big Youth and Prince Tony.
"Tony's LP with Big Youth taught him that the combination of deejaying and dub music is the best course to take." (Carl Gayle)
In 1975 a selection of singles for Bunny Striker Lee, including
Joyful Locks
and
Gorgon Wise
, had placed U Roy back on top of the peak and his
Dread In A Babylon
album, produced by Prince Tony that year, catapulted U Roy into the international big time. Richard Branson's
Virgin Records
in London began to invest heavily in Jamaican music and U Roy, along with Prince Tony, was one of their first signings.
Dread In A Babylon
was then released on Virgin in the UK and followed by
Natty Rebel
the following year,
Rasta Ambassador
in 1977 and
Jah Son Of Africa
in 1978. All sold in their thousands on the burgeoning international market but by 1980 the Virgin licensing agreement had run its course and U Roy's
Love Gamble/Love Is Not A Gamble
, released on TR International in Jamaica and
State Line
in America, included the vituperative, valedictory
Mr Branson Ran Away With The Ransom
. However, their association had helped to introduce Jamaican music, and not only deejays, to a completely new audience.
Prince Tony's first album with The Gladiators,
Trenchtown Mix Up
released in 1976, was another big international hit on Virgin and propelled The Gladiators to the forefront of Jamaican harmony groups. Their brief appearance in Jeremy Marre's acclaimed
Roots, Rock Reggae
film featured Prince Tony advising Errol Thompson at the controls as the group harmonised in Joe Gibbs' studio:
"Prince Tony and engineer Errol Thompson take hours just to get the balance they want. It's an instinct for the music..." (Roots, Rock Reggae)
The group's subsequent long players with Prince Tony,
Proverbial Reggae
in 1978 and
Naturality
in 1979, kept them at the top of the game and their UK tour in the spring of 1978 was a resounding success.
As the new decade dawned Prince Tony relocated to Miami and began to release albums in the dance hall style with up and coming artists including Earl 16 with
Super Duper
, Barry Brown with
Artist Of The 80's
, Tony Tuff with
To Lovers Everywhere
and Yellowman's
Hotter Reggae
on the Jam Rock Records label.
Very little has been heard from him since then, which is a great pity, as his work in the seventies helped to propel roots rock reggae music to hitherto unimagined areas. Biographical details for Tony 'Prince Tony' Robinson are nearly non-existent and he remains yet another one of the anomalies of reggae history where remarkably little is known about the pioneers who achieved some of the greatest successes for the music, apart from their incredible hit records.
Sources:
Carl Gayle: Straight To The Nation's Head Black Music Volume 3, Issue 26 January 1976 Jeremy Marre: Roots, Rock, Reggae 1977